We are Daymon
As the world's largest Private Brand agency, we combine a global presence with strong relationships through decades of partnerships with manufacturers, retailers, and brands.​
About Us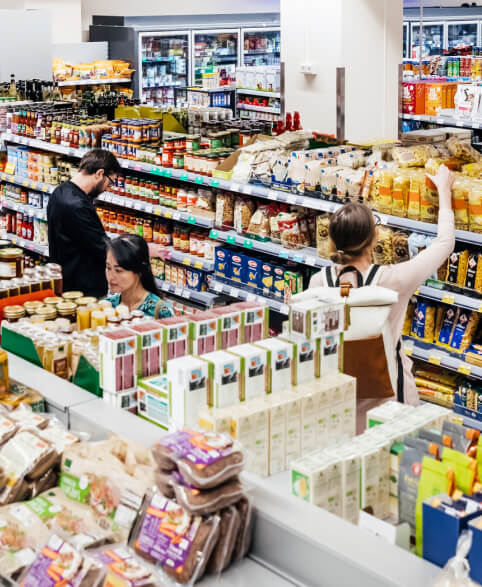 Creating an Industry
When our founders, Milt Sender and Peter Schwartz, shook hands on a partnership back in 1970, their goal was to maximize the market potential of Private Brands. At a time when these products were rarely thought of as brands, Daymon was created to turn these programs into true assets.
Private Brands have come a long way from their 'generic' roots. Today, Private Brands are recognized as consumer-centric brands in their own right, driving store choice, marketplace differentiation, and product innovation. More than 50 years later, Daymon continues to evolve to drive the global Private Brand industry forward into its next chapters.​
Today, more than 96% of U.S. shoppers buy Private Brands.
What drives us
We believe that Private Brands have a meaningful impact on people's lives by providing quality options at shelf that meet their needs. We approach our business accordingly to ensure their ongoing development and success
Long-Term Partnerships
We emphasize building enduring relationships with our partners, fostering trust and collaboration that stand the test of time.
Global Perspective
We approach our business with a global mindset, leveraging cultural diversity and international expertise to enrich our services and approach.​
Driving Innovation
We embrace innovation as a driving force, constantly seeking new ideas and creative solutions to stay ahead in a rapidly evolving market.​
Who we are
Noble
Our people lead with integrity and create an environment of mutual respect and trust. We value open, honest, and effective communication in every direction.
Profitable
We drive growth for our people, partners, and the total industry. We are committed to high standards of excellence.​
Fun
Our teams leverage innovative thinking, an entrepreneurial mindset, and positive attitudes to drive change in a constantly-evolving industry.​
Experts across retail
While we started in grocery, we're more than just food. We work across every channel, using our expertise and reach to grow your brand.
Grocery
Drug
Dollar
Mass
Club
Natural
Apparel
Discount
E-Commerce
Convenience
Automotive
Military
Home & Office
Over 50 years helping brands outperform the competition
Daymon and our associates are here to meet your needs, no matter how big or small. If you're not seeing exactly what you need, check out one of these pages for more information.​